BREAKING! Veteran actor Dilip Kumar hospitalized due to breathlessness – read deets inside
BREAKING! Veteran actor Dilip Kumar hospitalized due to breathlessness – read deets inside | Bollywood Life
<!–
Dilip Kumar has been hospitalized in one of the Mumbai's hospital after complaining of breathlessness. His official Twitter handle confirmed the news and asked fans to pray for his recovery.


A news report has surfaced revealing that veteran actor Dilip Kumar has been hospitalized. Reportedly, the Naya Daur actor was breathless. Veteran actress Saira Banu revealed that the actor had been breathing heavy for the past few days, reports ANI. The agency tweeted out saying, "Veteran actor Dilip Kumar has been admitted to PD Hinduja Hospital in Mumbai. He was having breathing issues since past few days, says his wife Saira Banu." According to News18.com report, Dilip Kumar is admitted to Khar's Hinduja hospital. Have a dekko at their tweet here: Also Read – Indian Idol 12: A teary-eyed Dharmendra pays a tribute to Dilip Kumar; says, 'Unhein jannat naseeb ho' – watch video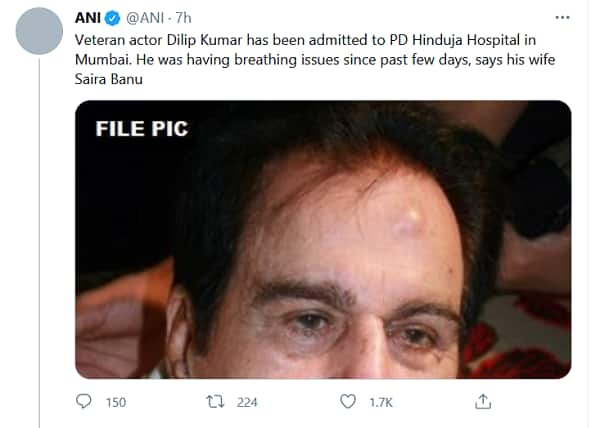 Also Read – Shah Rukh Khan celebrates 19 years of Devdas; remembers how his 'dhoti' kept falling off – view BTS pics
The official Twitter handle of Dilip Kumar tweeted out confirming the news. The handle said, "Dilip Sahab has been admitted to non-Covid PD Hinduja Hospital Khar for routine tests and investigations. He's had episodes of breathlessness. A team of healthcare workers led by Dr. Nitin Gokhale is attending to him. Please keep Sahab in your prayers and please stay safe." Have a dekko at the tweet here: Also Read – From Gladiator to Mughal-E-Azam: Best period dramas to watch today on Netflix, Amazon Prime Video, Disney+ Hotstar and more
Earlier in May, Dilip Kumar had grabbed headlines when he was taken to the hospital for a routine check-up. Given his age, the actor has to keep visiting the hospital for routine checkups. However, this news has saddened his fans and well-wishers have been sending prayers and wishes for the actor.
Meanwhile, last year in December, Saira Banu had shared an update on the Aan actor's health saying that he is not doing too well these days. However, she urged fans to keep him in his prayers. "He's not too well. He's weak. At times, he walks into the hall and back to his room. His immunity is low. Pray for his welfare. We are grateful to God for each day," the Shagird actress had told Times of India.
We wish the actor recovers soon and returns home.
Stay tuned to BollywoodLife for the latest scoops and updates from
Bollywood
,
Hollywood
,
South
,
TV
and
Web-Series
.
Click to join us on
Facebook
,
Twitter
,
Youtube
and
Instagram
.
Also follow us on
Facebook Messenger
for latest updates. <!–
–>
Bollywoodlife_Web/Bollywoodlife_AS_Inarticle_300x250|300,250~Bollywoodlife_Web/Bollywoodlife_AS_Inarticle_2_300x250|300,250~Bollywoodlife_Web/Bollywoodlife_AS_ATF_970x90|970,250~Bollywoodlife_Web/Bollywoodlife_AS_ATF_300x250|300,600~Bollywoodlife_Web/Bollywoodlife_AS_BTF_1_300x250|300,600~Bollywoodlife_Web/Bollywoodlife_AS_BTF_2_300x250|300,600~Bollywoodlife_Web/bollywoodlife_ros_strip|1300,50~Bollywoodlife_Web/Bollywoodlife_AS_OOP_1x1|1,1
<![CDATA[ function getCookie(name){ var re = new RegExp(name + "=([^;]+)"); var value = re.exec(document.cookie); return (value != null) ? unescape(value[1]) : null; } var getUrlParameter = function getUrlParameter(sParam) { var sPageURL = window.location.search.substring(1), sURLVariables = sPageURL.split('&'), sParameterName, i; for (i = 0; i
---
BREAKING! Veteran actor Dilip Kumar hospitalized due to breathlessness – read deets inside